How to find a software problem on a mobile phone?
There may be a chance of software issues occur, due to accessing some unwanted apps and websites, Irregular system software updates, and over storage .there  are many symptoms is given below to identify the software issues.
When using a mobile phone it will dissipate Overheating.
Due to background, hidden apps and virus battery will be utilized more .so Large power consumption will happen.
When the phone is affected by virus Non-stop popup notifications will come.
Hanging /freezing
Auto-restart
A mobile phone will show frequently Reboot mode that is also a software problem.
Systems will not respond properly. Slow system operation
Apps not downloading
Apps not opening
Google play store not working
Wi-Fi, GPS not enabling
NFC not enabling
Hot spot not enabling
Sensor not enabling
Buttons not responding
What is software updating?
Mobile software is a program to run a mobile device. in the case of software, failure happens in mobile phones. we need to do flashing. There is so much software available online, free of cost. Software available not only for flashing, but we can also do network unlocking, FRP- Factory Reset Protection unlock, and Rooting.
What is flashing?
Flashing is the process of restoring the operating system and removing all old data. While you prepare the phone for flashing, you need to back up your all data's in your desktop or laptop. When you do software for your phone you may lose your mobile phone warranty. But flashing will not affect the internal storage.
Benefits of the flashing:
A mobile phone will be optimized due to the flashing.
After flashing mobile phone response speed will increase.
Unwanted apps, viruses, bugs will be removed to increase system performance.
It protects power utilization by removing all hidden and background apps.
Software updating will increase the feature performance like the camera.
We need three main items for flashing. Such as,
Flash file
Flash tool
Flash drive
What is a Flash file?
Flash File is an Operating System software .it will operate Mobile hardware and software services. We can get the flash file from online
What is a Flash Tool?
Android Flash Tool is used to run a flash file on a mobile device with the help of a desktop or laptop. You can do flashing without a laptop or desktop, by using only your mobile phone and SD card. You need to download the flash file to your SD card. We can get free tools .
List of flashing tools
What is a flashing Driver?
A flashing driver is used to be connected directly into a USB port on a computer and then it is used for transferring files from one computer to a mobile phone. We can get free drivers.
Software Installation process
First, connect your mobile phone to pc .you must power off your phone
The first thing downloads and installs the driver. For example, if I am downloading mediate driver from online, type MTK driver download. Download and do the installation on your PC.
Download and install the flashing file .for example if I am having Micromax mobile .then type micro max flash file or firmware. Choose the latest version. You need to check the released year. And also you need to check the country. It's also called a firmware file or stock ROM. then do the extraction on PC.
Download and install flashing tools, and extract flashing tools on your PC. For example, I am downloading the SP flash tool on my computer.
Open the flash tool extension to launch the flashing tool.
If the SP flashing tool is launched .then press the scatter-loading button.
Upload the scatter file on the flashing tool.
Now you must notice few things. Disable the pre-loader option.it can brick your device.
Press the below key combination to detect your phone on the computer.
Power button + volume up button
Power button + volume up button + home button
Power button + volume up button + volume down button.
Finally, press the download button to flash the device.
We need to wait until a green tick appears on the screen. That means your phone was successfully installed.
Now you can remove your phone.it will start work normally.
What is a software box?
A software box is also called a flashing device or flasher. It is mainly used to recover user data from dead or faulty mobile phones and up-gradation and down gradation of the operating system.  Flasher boxes will access phone flash memory, without installing any software on the device. There is no extra effort needed .compare with an online tool, driver, and file downloading method. It's a very secure process.
Features of a software box
Flashing
Remove SIM-Lock
Repair BT
Repair IMEI
Wipe Phones
Remove Google account
Software boxes are given below.
SFT Dongle
Hydra Dongle
Miracle Thunder Dongle
Infinity-Box Dongle
I Box Mini DFU Tool
Best Dongle
Sigma Key
NCK Dongle
CS Tool Dongle
Z3X Box Samsung Edition
Z3X Box LG Edition
Medusa Pro Box
UMT Dongle
Chimera Tool PRO Dongle
Chimera Tool Samsung Dongle
EMMC Pro Box
EMMC Booster Tool
BMT Pro Dongle
Avatar Pro Dongle
GRT Dongle
I Power X Box
Miracle FRP Dongle
AE Tool EMMC Programmer
Easy-Box Dongle
GSM Shield Box
I Free Box
Wikitech UFS Programmer
Pandora Box
Miracle Ninja EMMC Box
MIPI Box Pro
JCID P7S BGA70 NAND Repair Programmer
JC ID J-Box
Magico OPPO Tool
Aqua Dongle
BST Pro Dongle with Cables
Octo plus Huawei Tool Dongle
UFI Dongle
EFT Pro Dongle
MRT Dongle
I Repair P10 DFU Box
UFS Flashing boxes
Easy JTAG Plus Box
Medusa Pro 2
Best Box UFS Chip
HWK UFS box
Installation of software in the mobile phone by using software box
UMT Pro Box
UMT Pro Box comes with a SIM card.it has a UMT id. This SIM needs to work the dongle and renewal your dongle.
Before that, you should have internet access on your PC.
Download the UMT dongle driver from the website.
Type on Google-like, UMT Pro support access. Com or type UMT software. There are so many latest software tools available for flashing, FRP unlocking, IMEI read and write, SIM un-lock, etc., select UMT support access. Download and install.
Now you can connect the UMT Pro dongle .without UMT Pro dongle software tool will not work.
Open the tool there so many options available for the driver, firmware, etc. now download the driver for your mobile phone processor, such as Qualcomm, Media Tek, etc.,
Now choose firmware for your phone model then download and install. Choose updated firmware for your phone brand.
Now open UMT pro tool .screen will open. There some option will be present, such as model, Samsung, Qualcomm, flashing, FRP unlock, IMEI read and write .you need to select processor or brand For example, Lenovo, Oppo, Vivo, Samsung will be given. A model option is there for choosing a particular model number of your phone. Choose model.
Load scatter file and connect your mobile in off condition .then press button power button, volume up button combination if that particular model needs.in some cases, we need to remove the battery so once you check with the UMT website, then give a start.
If software uploads complete. Remove your phone.
HARD RESET: 
A hard reset is called a factory reset. It is also known as master reset, hard reset means restoration of a device to the beginning state. in hard reset the mobile won't be opened or connected to the computer. While during hard reset all the application, setting, and data will be removed.
During hard reset when some issues happen in mobile phone .that is,
Mobile will be lag on opening, Mobile hanging frequently, Mobile is slow working, Virus infection, automatic restart, Logo hanging to remove Phone Lock.
Procedure to do Hard Reset in Android Phone
Step 1: Power off your device (If the device is freeze, you can remove the battery to turn it off.)
Step 2: Press Volume Up button + Home button+ Volume Down button .this will differ for different brand mobiles.
Step 3: Select Factory reset (you can use the up or down button to select factory reset).
Step 5: press confirmation. Now your phone will be restored.
Examples,
Hard Reset for Windows Phone
Step 1: Turn off the phone by pressing the power button.
Step 2: hold the power button until it will power off.
Step 3: Press the Volume down Key + Power Key. It goes to booting mode.
Step 4: Wait for the start-up booting screen will appear.
Step 5: Now the phone will start to boot .it will take some time.
 Hard Reset For iPhone
Step 1:Press and release the Volume Up button
Step 2: Press and release the Volume Down button
Step 3: Press and hold the side button.
Step 4: Release your finger once the Apple logo appears
 SOFT RESET
It is a very simple process. Go to Settings; choose Backup & Reset and then select "Factory Data Reset.
 How to do Soft Reset of iPhone
Step 1: Prepare your iPhone by back up.
Step 2: Access the Reset menu
Step 3: Reset your iPhone
Step 4: Restore your iPhone
System Update:
Mobile can automatically update its software. When it's alert, carefully give time for an update on your mobile phone. For example, for Samsung mobile go to setting – software update -press install option .now successfully system software will be installed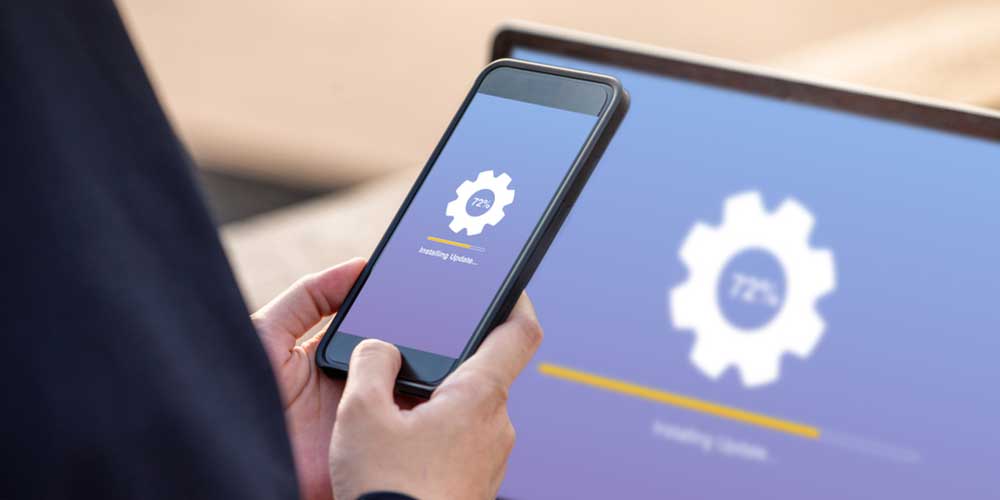 Sometimes touch and display hanging may happen because of software corruption .and sometimes due to virus issues, touch and display may slow down. We need to do flashing, firmware updates, etc. continuous flashing can be the reason for Android phones hanging. So do one or two times only. If you are recently dropped your phone, that will lead to severe damage. Slow performance in touch, hanging, freezing, app not support is caused by software problems.
Prevention: 
Delete recently installed third-party apps.
Recalibrate the touch screen.
Reset the device.
 How to maintain mobile phone is healthy 
There are some steps we need to follow to keep mobile phones healthy.
Keep your all Backup and Your Photos on the desktop. Clean your gallery.

Avoid visiting the unwanted website.

Put charge properly.

Update your phone regularly when your phone show an update notification

Don't download unwanted apps.

Don't open unwanted forward links or websites from a forward message from Whatsapp and Facebook.

Check always any unauthorized app has been installed without your knowledge. Use clean master to clean up unwanted files.

Remove apps if you do not use them for longer.